Ways to be Eternally Chic...hmmm
Got this from an old copy of Self Magazine on my shelf... great ideas... just thought I would add the Coco Sparkle Twist...After all, I live in the world of the Coco Mother and the rules are a bit different...
So let's look at one Style Secret:
Own the Classics...
Self says: Black Cashmere sweater, white button down shirt, knee length skirt, a trench coat in a zingy color, a classic handbag.
Classics in the Coco Mother world:
Ralph Lauren - Blue label..
Cashmere with children?!
Disaster
. A Great twin set or cardigan from Ralph Lauren, JCrew or Banana Republic is a more popular choice and smart with this crowd.
Anne Klein and the new trendy Genetic jeans...
A skirt? No, no, no... classic is awesome designer jeans and The LBD (little black dress).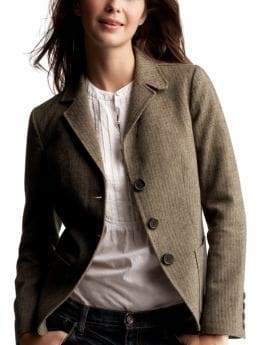 Gap...

Trench in a zingy color? More like a nice blazer or jacket. Although some very chic Coco Mothers do have pea length trenches in solids and some even in solid metalics.
Banana Republic..
White button down shirt...Absolutely... that is like commandment isn't it?
If Thou are fashionable Thou must own a white button down shirt.
Versace's offering for fall...
A classic handbag? Well, not so much a classic handbag as much as a large designer handbag.
Gosh so much to say and soo little time.. have to dash to yoga class.. remember I still have 10lbs to go before school starts!!!
We'll continue this... and believe me there is more ... next time!
Toodles,